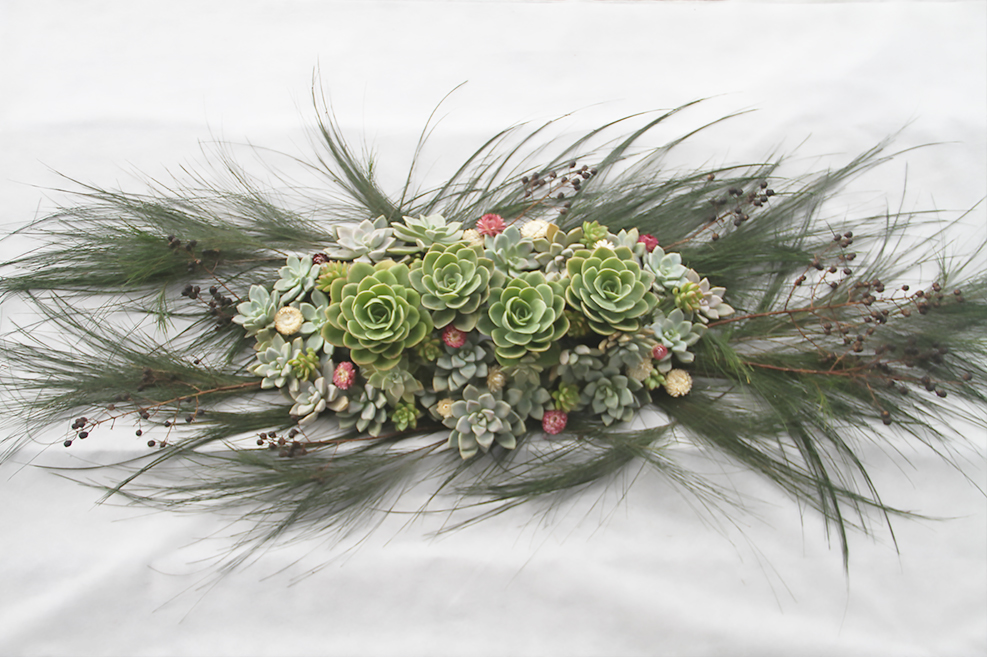 We provide a boutique botanical arrangement event hiring service, offering beautiful, original, unique and contemporary arrangements. Our arrangements are designed according to the season with succulents at their core; chosen from what's growing and looks best at the time of your occasion. We love to incorporate native and exotic seed pods along with an assortment of dried native flowers and fresh foliage which offers wildly adventurous textures and colours to our unique designs.
Central to each display are our timeless hand made planters, that are of a contemporary carved stone look and feel, but of a lightweight material (available in tones; sandstone, light grey and charcoal). In addition we can offer installation and sculptural elements as part of our unique style.
Unlike the typical experience with a florist, you're not purchasing the arrangements from us but simply hiring them. This way we can offer them at a much reduced rate to the buying cost. We are the growers and designers, so when you hire with us, you are paying in part for the time for us to propagate, grow, maintain, harvest and design an arrangement.
Our arrangements are however like traditional cut flower arrangements in that they are temporary displays, not potted plant designs. We typically hire from 12hrs up to 1-2 weeks (in optimum conditions). If you would like to purchase an arrangement rather than hire it, please let us know and we can provide you with a purchase cost.
Our Process
Our initial consultation with you is to understand your theme, colour palette, inspiration and budget; along with all the other important details. We then collaborate with you to create the best arrangements & designs to fit your needs, wishes and desires. Once the designs have been finalised, we hand select and harvest all the botanicals specifically for your event to ensure the best quality.
Levels to Our Offering
Who doesn't love options? Working with the season of your event, we offer several levels of embellishment to your arrangements in order to cater to your needs.
Our Signature look:
Our handmade pots with succulent and seed pod arrangements within.
.

Our Table Garden styling:
Built on the Signature look with additional seed pods and succulents arranged around the pot(s) to create an engaging table landscape.
Our Embellished Table Garden offering:
A step up again from Table Garden styling, with even more seed pods, succulents and foliage to create a beautifully whimsical table garden.
and beyond…
From clean simplicity to sumptuous extravagance, we're here to explore the possibilities and adventure of your event with you… how far do you want to go?
---
Our Range
Our family of handmade planters, the timeless foundation stone to our arrangements, come in a variety of shapes and sizes. Whether used as single elements, multiples or in a combination, our planter family range are ideal for your occasion settings; intimate to large, through to wonderfully extravagant.
Coco is the smallest in our family. Ideal for small & intimate settings, used in a cluster as a table centrepiece (odd numbers are most balanced), in a line on long trestle/banquet tables or as part of a combination with her sisters to create a unique, visually engaging design arrangement.
Dimensions: H 18cm W 14cm
[Best_Wordpress_Gallery id="1″ gal_title="Coco"]
Suspended Coco is ideally suited to hang from the rafters or against a wall, several cascading from an arbor or trellis, or create a stunning floating wall arrangement en masse.
[Best_Wordpress_Gallery id="7″ gal_title="Suspended Coco"]
Gwen is ideal as a centrepiece on a round, small to medium size table, or combined with some Cocos to make a beautiful arrangement on long trestle/banquet like settings.
Dimensions: H 11cm W 33cm
[Best_Wordpress_Gallery id="2″ gal_title="Gwen"]
Jos is perfect for large round table settings as a centrepiece or combined with other arrangements on large long trestle/banquet tables.
Dimensions: H 13cm W 39cm
[Best_Wordpress_Gallery id="3″ gal_title="Jos"]
Lilly creates a statement on long trestle/banquet tables. By herself or in combination with other planters, Lilly will create a beautiful centrepiece to any setting.
Dimensions: H 11cm W 32cm L 61cm
[Best_Wordpress_Gallery id="4″ gal_title="Lily"]
Mona is the largest planter arrangement. Used by herself or in combination with other elements she is a wonderful statement piece for a reception area or event entry display.
Dimensions: H 14cm W 53cm
[Best_Wordpress_Gallery id="5″ gal_title="Mona"]
Installation: We work to create something completely unique and specific to your needs. Our living sculptural installations combine a selection of our mature plants with our botanical mix and ornate hand-sculpted wire frame works to create truly unique and creative statement pieces. The size, breadth and scope of these pieces can be as big as your imagination.
[Best_Wordpress_Gallery id="6″ gal_title="Sculpture"]
Free Form: An alternative arrangement option, unconstrained by pot/vessel, offers pieces that adorn a surface – whether a wall, trellis, arbor or a table.
[Best_Wordpress_Gallery id="9″ gal_title="Free form"]
Combinations: Combining a variety of our various arrangements is an opulent and engaging way to create a beautiful display for your occasion.
[Best_Wordpress_Gallery id="11″ gal_title="Beyond"]